LEARNING THE ROPES
Evening Groups
T-W: 5:30pm - 8:30pm
Weekend experiential activities monthly

Youth Services
See how our youth services have helped a variety of young adults at Higher Ground.
Click Here to watch the video.
IN AN EMERGENCY
For a medical emergency, please dial 911. In the event of all other emergencies during non-business hours, please contact the Higher Ground Crisis Hotline at (316) 258-7661.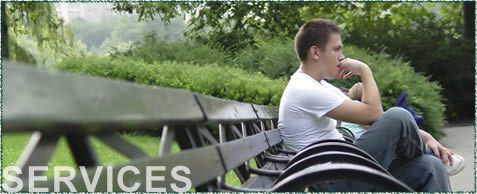 Youth Services
Discovering that your son or daughter has a substance abuse problem can be devastating. We understand that adolescent issues are a constant struggle for everyone involved. Reaching out for help is not easy, but it is a crucial and important step toward healing. Turn to Higher Ground. Here, you will find hope, help, and a safe haven for your child. Your family will experience the miracle of recovery.
Higher Ground offers help and hope for adolescents 12-17 who are exhibiting signs and symptoms of alcohol or other drug involvement. Our programs are specifically designed to meet the unique needs of youth and their families, who struggle with substance abuse.
Our adolescent services include:
Teen Prevention Education and Training
Prevention education and training are offered to schools and community organizations through the Challenge by Choice Program.
Assessments
A licensed addiction counselor will meet with the adolescent and his/her family to administer a comprehensive assessment based upon nationally accepted criteria. The counselor will then make recommendations based upon the results of the assessment. All information is confidential, and families will pay no out-of-pocket cost for this service. Higher Ground offers assessments on a walk-in basis, 3 days a week, at 9:00 am. Evening appointments are offered under limited circumstances. Please contact Higher Ground for detailed assessment information.
Outpatient Treatment
Group counseling, individual and family counseling, educational sessions, and discussions are important components of the outpatient experience in Higher Ground's Learning the Ropes Youth Treatment Services. Our clinical team, including a clinical coordinator, licensed addiction counselors, and Master's-level social workers, works together to tailor a treatment plan to the specific needs of each young person. Art therapy, life-skills training, problem-solving activities, and recreational therapy are all important parts of this plan. Experiential activities directly related to recovery are also provided throughout the treatment process at Higher Ground.
Family Program
Higher Ground believes that the support of both the young person and the family are essential to the healing process. Higher Ground's commitment to family recovery is promoted through helpful family education and counseling. Family involvement is advised and encouraged as a vital part of the treatment process.
Relapse Prevention
Higher Ground provides each adolescent with a unique array of tools for relapse prevention. This "toolbox" consists of activities and simple techniques that help teens release emotional tension and recognize destructive, addictive patterns as they arise. It also includes methods to spot and handle stressful situations that may otherwise contribute to relapse. Participants gain new awareness and strength to turn away from substances and maintain an addiction-free lifestyle.
Continuing Care
These services include individual and group counseling for adolescents who have completed the primary treatment program. Youth are provided opportunities to explore, plan, and deepen their understanding of sobriety, while practicing the healthy lifestyle changes developed during treatment.
Programs
Learning the Ropes Program– Youth Treatment Services


Adolescents 12-17 and their families find answers and support for the challenging problems surrounding early drug and alcohol usage. This program blends traditional counseling with experiential activities in order to engage young people in the treatment process and meet their unique learning needs. Family involvement is strongly encouraged.

Challenge by Choice Program– Youth Prevention Services


Teens and pre-teens develop healthy decision-making skills for critical life choices while having fun. Games and experiential activities focus on the prevention of substance abuse and other problem behaviors. This program offers education and training for community-based organizations such as schools, youth groups, and sports teams.