What makes the difference?

An enfolding, healing environment
Hands-on learning experiences
Support for families
Empowerment through personal growth
Evidence-based treatment approaches
Higher Ground offers a proven approach to treatment and recovery. We make a difference by helping participants learn how to break the cycle of dependence and reclaim their lives.

Youth Services
See how our youth services have helped a variety of young adults at Higher Ground.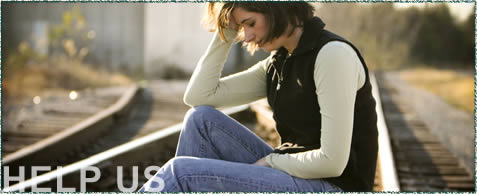 Substance abuse isn't a personal problem
- it's a community problem!
It's true – you really can make a difference and save a life. Your donation will give youth and families the gift of compassion in their time of crisis. Healthy individuals and families make strong communities. Support our mission and make a difference - one life at a time.
Ways to Give:
Program Donations

Financial Contributions
This is the easiest and most convenient way to give, any amount at any time. Your donation will directly support the mission of Higher Ground by funding youth and adult programs and services.
$ 50 - Will pay for an individual counseling session.
$100 - Will allow a teen to engage in a Ropes Course
$350 - Will pay for a week of group counseling.
Tribute Giving
Tribute giving to Higher Ground is a terrific way for you to honor or commemorate a loved one or friend while furthering the Program's mission.
Celebration Gifts - Express your joy, gratitude or honor someone in a very special way. A tribute gift to Higher Ground always holds special meaning for the recipient and is appropriate for a variety of occasions:

Birthdays
Anniversaries
Mother's Day or Father's Day
Christmas or Hanukkah
Special occasions

A special card will notify the honoree or designated family member of your thoughtful gift. Amounts are never revealed.

Memorial Gifts - Remembering a special person in memoriam with a gift provides a lasting tribute. It is a meaningful way to convey sympathy to the bereaved or to memorialize a loved one.

When gifts are made in memoriam, we send an acknowledgement in your name to the person you designate when you make your gift.

Please contact our office to send celebration or memorial cards.
Legacy Endowments

'Legacy for Recovery' Endowment
Donations to the 'Legacy for Recovery' Endowment Fund are a wonderful way to ensure that youth and families receive help and hope at Higher Ground well into the future. For more information on the 'Legacy for Recovery' Endowment Fund, administered by the Wichita Community Foundation, please contact our Assistant Director, Shirley Toy.
Other ways to Help:
Become a volunteer
Give "in kind" – see our WISH LIST
Help us with Fundraising