What makes the difference?

An enfolding, healing environment
Hands-on learning experiences
Support for families
Empowerment through personal growth
Evidence-based treatment approaches
Higher Ground offers a proven approach to treatment and recovery. We make a difference by helping participants learn how to break the cycle of dependence and reclaim their lives.

Youth Services
See how our youth services have helped a variety of young adults at Higher Ground.
Click Here to watch the video.
IN AN EMERGENCY
For a medical emergency, please dial 911. In the event of all other emergencies during non-business hours, please contact the Higher Ground Crisis Hotline at (316) 258-7661.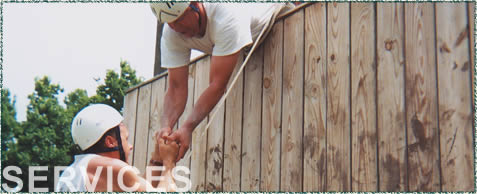 Take Your Team to The Next Level!
Higher Ground's Team Elements offers year-round training to corporate groups, youth groups, and other organizations.
Interactive!
Every individual contributes to the team, honing communication, problem-solving, decision-making, and conflict-resolution skills. The interactive process allows each group to quickly identify solutions that might take years to accomplish in the workplace.
How will your team benefit?
Teambuilding
Leadership
Problem Solving
Decision Making
Trust
All activities are conducted by Higher Ground's safety-certified staff facilitators, using state-of-the-art rappelling equipment.
Customized Courses!
Team Elements Courses are tailored to meet your needs and objectives- our professional staff will help you select the right program from a range of component and activity options.
Group sizes can range from 8 to 40. Courses can be provided indoors, outdoors, at your workplace, or at one of our facilities!
High Elements:
Activities conducted on equipment 6 - 30 feet off the ground, which challenge participants to achieve personal goals through group cooperation and support.
Low Elements:
Activities presented near the ground, in which the group must solve problems requiring their collective mental and physical resources.
What We Do, We Remember!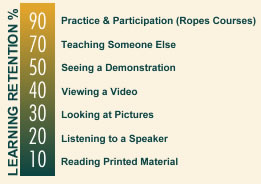 First Level: Awareness
Time: 2-4 hours.
Description:Allows the group to explore problems, issues, and strengths.
Second Level: Functional Understanding
Time: Half to a Full Day
Description:The group learns how to deal with problems and issues.
Third Level: Organizational Development
Time: Full Day
Description: Long-term strategies to develop a functional team.